4 ESSENTIAL SEYCHELLES EXPERIENCES
Africa is such a vast continent that each country within it has its own unique culture and experiences to offer travelers. As a melting pot of customs, personalities, stunning nature and intricate history, there is no limit to the amount of time you can spend exploring this part of the world.
Depending on what you are looking for in your vacation, different countries in Africa may fit the bill. But, if you are looking for one of the world's most idyllic destinations, then Seychelles is probably the spot for you.
Located off East Africa, Seychelles is an archipelago of 115 islands in the Indian Ocean. As the oldest granitic islands on Earth, they are nothing short of awe-inspiring. While you can check into your luxury resort and then sit back and relax, there are plenty of Seychelles activities for you to get out and explore.
If you are searching for the next location for your vacation, read on to discover the four essential Seychelles experiences.
1. Visit the Unbelievably Gorgeous Curieuse Island
Curieuse Island is a small granitic island, located off the north coast of Praslin – the second-most populated island of Seychelles. Known for its red earth mountains, this island is so stunning that it is hard to believe it is real.
While visiting, look out for the unusual Coco de Mer trees that grow here in their original form and produce a fruit which can grow to almost 30 kg. These trees are one of the symbols of Seychelles! Additionally, pay a visit to the 300+ giant land tortoises that reside here, learn about the coral restoration projects that are underway, and challenge yourself to a trek or a hike.
2. Snorkel or Dive in the Beautiful Sainte Anne Marine National Park
Many of the smaller islands in Seychelles have been preserved as national parks, allowing the heritage and beauty of this slice of paradise to be showcased to the world.
One of the most beautiful options is Sainte Anne Marine National Park which is made up of six islands off the northeast coast of Mahé Island. Travelers from around the globe flock to these islands to experience the beaches, luxury resorts and lip-smackingly delicious restaurants.
However, the ultimate experience is to take advantage of the coral reefs and diverse sea life and snorkel or scuba dive to your heart's content.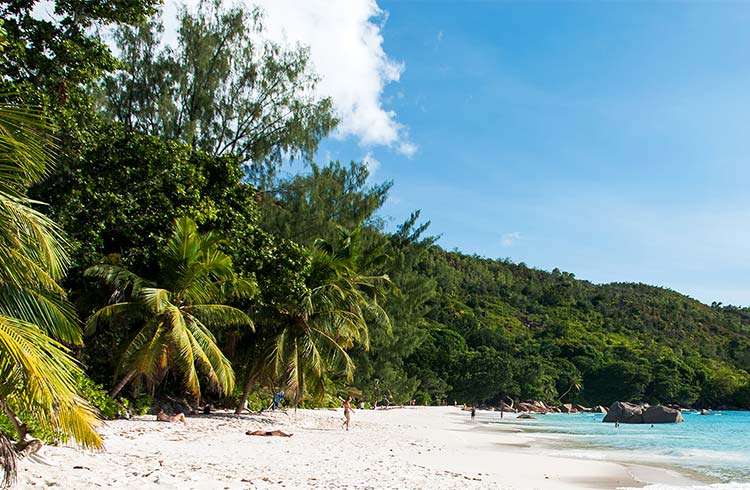 3. Stay at a luxury Resort
Seychelles luxury resorts, like JA Enchanted Island Resort, are indeed something to write a postcard home about. In these hidden sanctuaries, you can find your paradise. When searching for your ideal luxury resort, make sure you look for a place that offers private villas to guests, a pool, and world-class cuisine.
The best place to look for luxury resorts is in the Sainte Anne National Marine Park as you can enjoy the Creole architecture, breathtaking sunsets, leaning palm trees, white beaches and the Indian Ocean. Pure bliss!
4. Hop around the islands
Due to the abundance of islands in Seychelles, there are plenty of variations for your itinerary planning. Generally, people like to choose a couple of islands to visit one after the other in order to see as much as possible. If you prefer to really get to know a place and engage in "slow travel," then limit yourself to two or three islands.
Mahé, Praslin, and La Digue are three of the most iconic; however, each island is its own mini-paradise as well as its particular characteristics and activities.
To help you decide, keep in mind that Mahe is considered the cultural soul, while Praslin has a perfect balance between the beach life and natural parks. La Digue is the most relaxed; it is the place where you can find locals and tourists on bikes at all times of the day and partying each evening.
Have you ever been to Seychelles? Are you currently searching for a flight deal to experience a Seychelles villa with private pool? Let us know your future travel plans in the comments below!
AUTHOR BIO
Thomas Grundner is the Vice President of Sales and Marketing for JA Resorts & Hotels. He has more than 20 years of expertise in the hospitality and leisure industry – across international markets including Germany, Egypt and Spain. Grundner oversees all sales, marketing and revenue efforts as the company continues to build on its key growth and development strategies and further cultivates its unique blend of "Heartfelt Hospitality" and "Casual Luxury."